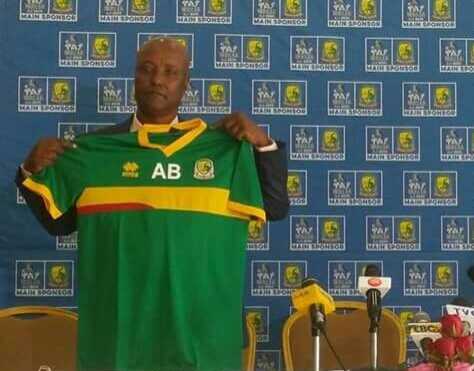 Newly appointed Walia Ibex coach, Ashenafi Bekele, has stated that the one time Africa Champions have what it takes to not only qualify for the 2019 Africa Cup of Nations but also go very far in the competition.
Ashenafi was confirmed on Tuesday by the Ethiopia Football Federation (EFF) as the Walia Ibex's new handler on a two year contract.
Speaking after his appointment, Ashenafi however stated that for the Ethiopia to make it to the 2019 Afcon and perform, all hands must be on deck.
"If we work together,I can take Ethiopia to the quarterfinals of AFCON 2019.
"I have confidence that with the right atmosphere and the right support from all stake holders we can build a strong national team,"said Ashenafi.
EFF have promised to give Ashenafi all the support as he will  have free hand to select members of coaching staff which will comprise of two deputy coaches, a goalkeepers trainer, one physical trainer, one sport psychologist,one players diet personnel and a spokesperson.
Sources close to the coach indicate that his deputy coaches will be former national players who have a 5 yrs coaching experience and an sport science degree holder.
The Walia Ibex will kick off their 2019 AFCON qualifying campaign away to Ghana in June
Other teams in the group include Kenya and Sierra Leone.
Already, Ashenafi has presented his proposal for friendly matches with three countries namely Uganda,South Africa and un-named Western Africa nation.
Talks for the friendlies are in good shape and the games may be played in May out of FIFA Calendar.
The 52-year-old,Ashenafi, is one of the respected local coaches and he has experience of over 25 yrs in club and national team level.
He spent many years of his coaching career with Ethiopia Banks FC,presently known as Ethiopia Nigid Bank in different times.
Other premier league teams that he has coached include Sidama Coffee, Defence Force and Adama Kenema.
He was also the deputy coach of the Ethiopia Women's National team that took part in the 2002's Africa Women's Cup.
/Soka 25/