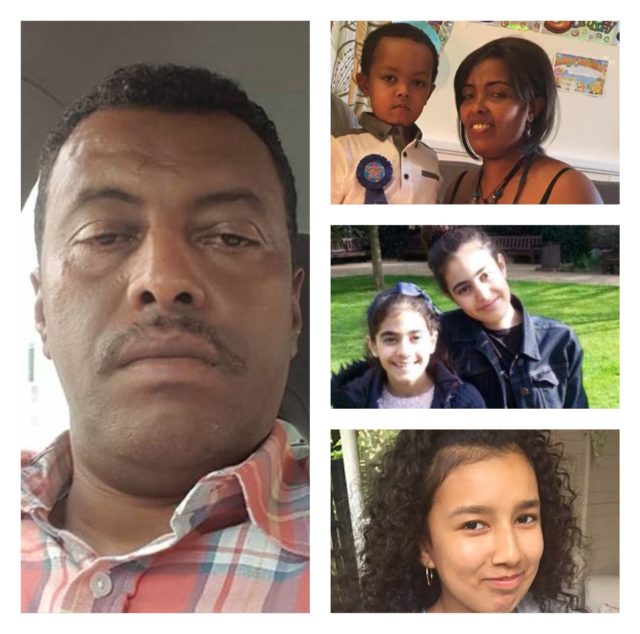 Father of one, Ethiopian taxi driver from  discovered the fire
– Behailu Kebede raised the alarm as the Grenfell Tower inferno began to spread, his neighbours have said
– Father of one, a taxi driver from Ethiopia, discovered the fire in his fourth floor kitchen ahead of blaze
– Mr Kebede banged on a neighbour's door and alerted her to the fire, potentially saving many lives
– Tower block resident Maryam Adam said he knocked on her door to warn her at 12.50am on Tuesday night
– At 12.54am, a resident called 999 and the first engines arrived at the scene in west London within six minutes
– After 15 minutes, most of the tower was alight, 30 minutes later the building was engulfed in flames
– This is the mini-cab driver whose faulty fridge is alleged to have started the Grenfell Tower inferno.
– Behailu Kebede, a father of one, raised the alarm after flames took hold in his flat at number 16 on the fourth floor.
Maryann Adam, 41, who lived at number 14, told how Mr Kebede banged on her front door in the early hours of Wednesday to tell her that there was a fire in his kitchen.
She said: 'He knocked on the door, and he said there was a fire in his flat. It was exactly 12.50am because I was sleeping and it woke me up.
'The fire was small in the kitchen. I could see it because the flat door was open. There was no alarm.'
Kebede friend Eshete Meried said the 44-year-old taxi driver originally from Ethiopia, escaped the building – but was still in shock.
Speaking exclusively to MailOnline, Mr Meried said: 'Behailu did raise the alarm, that is what I am hearing.
'He is fine but he is not in a position to talk about anything right now. I understand that he in a temporary shelter, staying with friends.'
Another friend said Mr Kebede had spoken to police who are investigating the fire.
Maryam left her phone with her belongings in her flat and has been unable to check on other residents. She later attended the Chelsea and Westminster Hospital after feeling dizzy, but was given the all-clear.
Speaking today from emergency accommodation close to the scene of the disaster, Mr Kebede told of his distress at witnessing the very beginning of the inferno, which it is feared to claimed more than 100 lives.
He told MailOnline: 'I am very upset'. Asked whether the fire started in his flat by MailOnline Mr Kebede replied: 'I'm busy, I'm busy. Goodbye.'
Chaos and confusion hit the block as the fire began in Mr Kebede's and quickly took hold. It reached the top floor of the 27-story block within just 15 minutes.
Witnesses watched helplessly as people trapped in smoke-filled flats took it in turns to suck breaths of air through windows designed to open only fractionally.
Trapped residents flashed torches, their mobile phones and even fairy lights from their windows in a desperate attempt to attract the attention of rescuers.
One witness said: 'People were taking it in turns to get air from the window, and flashing their phones, and then the fire just took them.
'You could hear people yelling from the top, 'Help, get my children out!' and you are just standing there, and watching people die, burning…'
One resident wept as he described how people 'just threw their kids out, screaming 'save my children'.' Another said his mother stepped over a dead body to escape the building.
One man claimed he saw a child who was on fire leap from the 22nd floor, adding: 'He walked to the window, and he jumped.'
It emerged today that a six-month-old baby is among the missing. The baby girl's mother, Farah Hamdan, and father, Omar Belkadi, have also not been seen since the fire but her older sisters, eight-year-old Malek Belkadi and Tamzin, six, were found in a London hospital.
A family of six are also missing after they were caught up in the blaze. Relatives are searching for Nadia, 29, and Bassem Choucair, 38, their three young girls, Mierna, 13, Zaynab, ten, and Fatima, three, and grandmother Sirra.
Five-year-old Isaac Shawo was also lost as his family tried to flee their 18th floor flat. He was holding the hand of a neighbour but disappeared as his parents and brother Luca, three, stumbled down a fire escape.
At least 12 people have died after the huge fire destroyed Grenfell Tower in north Kensington, where flames could still be seen burning more than a day on from the disaster.
More than £1 million has been raised to help those affected as fire tore through the 24-storey building while volunteers and charities helped with feed and shelter people who could not return to their homes overnight.
A wall of condolence was put up near the scene with photographs showing dozens of messages left for loved ones.
Prime Minister Theresa May has promised a 'proper investigation' after the building went up in flames early on Wednesday morning amid growing concerns about how the fire could have spread so rapidly.
Speaking in Downing Street, Mrs May said: 'When it's possible to identify the cause of this fire, then of course there will be proper investigation and if there are any lessons to be learnt they will be, and action will be taken.'
Residents' groups have claimed they voiced concerns about the safety of the building, which had been recently refurbished, while those who escaped complained their fire alarms had not been set off by the blaze.
One focus for the investigation will be the building's cladding, which TV architect George Clarke said may have accelerated the blaze.
Mr Clarke, who lives locally and appears on Channel 4's Amazing Spaces, told BBC's Newsnight: ' I saw those cladding panels, the cladding on the outside and the insulation was just peeling off, like you'd peel a banana.
'It was fully on fire. I could see the flames behind – there's a new cladding system put on the outsides that looks like a new skin, there's an air gap an insulation behind that, to me that looks like a fantastic chimney for the fire to rage around.'
Grenfell Tower, which built in 1974, was recently refurbished at a cost of £8.6 million, with work completed in May last year.
Kensington and Chelsea Council admitted it had received complaints over the works, after a residents' action group said its warnings about safety had fallen on 'deaf ears'.
A blog post from Grenfell Action Group in November said 'only a catastrophic event' would expose the concerns residents had.
London fire chief Dany Cotton said full searches of the upper floors, where no one is said to have survived, are yet to be carried out. Parts of it will need to be shored up before rescue workers can enter.
She told reporters: 'Tragically now we are not expecting to find anyone else alive. The severity and the heat of the fire would mean it is an absolute miracle for anyone to be left alive.'
Describing the situation inside the tower this morning, fire chief Ms Cotton said: 'Some of the internal structures are not regarded as safe at the moment, however the central core is, so my firefighters have been up to the top floor last night, they have done the initial brief search from the doorways.'
'So although we've been up there we haven't managed to do a comprehensive search and until we can make the building safe then I really don't want to risk the safety of my firefighters at this moment in time,' she added.
Ms Cotton said structural surveyors and urban search and rescue specialists would inspect the building on Thursday and once it was declared safe a full search would take place.
Search and rescue dog teams will then go through the building first before experts carry out a 'painstaking' fingertip search of the building which may take weeks, Ms Cotton said.
Relatives and friends of the scores of Grenfell Tower residents who are missing are desperately searching hospitals for them and appealing for information.
It is feared scores of residents died when flames engulfed Grenfell Tower in the early hours of yesterday. Those who escaped the blaze have been left trying to find out if relatives, friends and neighbours managed to get out.
Among those missing include a family with three young girls, a friend of an MP, a woman who sent a friend a Snapchat video of the blaze at 3am, and another resident told by a firefighter to remain in her flat with her son.
/Source Dailymail/