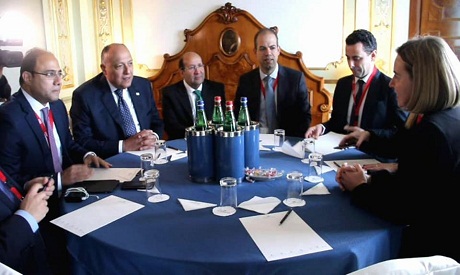 Egypt's Foreign Minister Sameh Shoukry discussed a number of regional diplomatic and security issues with the High Representative of the European Union for Foreign Affairs and Security Federica Mogherini on the sidelines of the Euro-Mediterranean Dialogue held in Rome on Friday.
Egypt's foreign ministry spokesman Ahmed Abu Zeid said in a statement that the two officials discussed in particular the situation in Libya and its impact on the humanitarian conditions affecting the lives of African migrants.
The two exchanged views on the efforts of the African Union, the European Union and the United Nations to address the situation in cooperation with Libyan authorities.
Foreign Minister Shoukry also showcased efforts exerted by his country to unify the Libyan National Army and to support the UN envoy's mission to achieve national consensus in the divided North African country.
Regarding the Ethiopian dam issue, FM Shoukry presented to the EU representative on the lack of progress in completing the necessary technical studies initially agreed upon by Egypt, Ethiopia and Sudan.
The studies, which aim to assess the dam's potential impacts on the water shares of downstream countries such as Egypt, have not been completed within the time frame originally specified to ensure the maximum benefit of their recommendations during the dam's filling and operation process, Shoukry told Mogherini.
Last month, negotiations between Egypt, Ethiopia and Sudan broke down over how to conduct the proposed technical studies, though Ethiopian construction of the dam is already well underway.
"This issue requires that the Ethiopian side recognizes the significance of the time factor," Shoukry told the EU representative, according to Abu Zeid's statement.
On the Palestinian-Israeli peace process, the foreign minister highlighted Egyptian efforts to encourage the resumption of negotiations.
The two sides also exchanged assessments on the security and humanitarian situations in the occupied Palestinian territories, according to the statement.
On the subject of the country's national security, Representative Mogherini reaffirmed the EU's support for Egypt's efforts in the areas of counterterrorism and unregulated immigration.
Mogherini and Shoukry stressed the importance of the strategic partnerhip between Egypt and the EU in economic development since European countries maintain 45 billion euros in direct investments in Egypt.