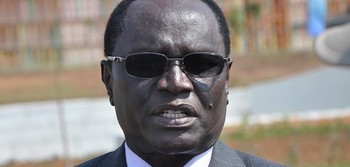 South Sudanese embassy in Ethiopia had been taken to court over rental arrears after the government failed to pay.
John Sefo, the landlord who rented his building to South Sudan embassy in Addis Ababa, told Radio Tamazuj today that he has sued the South Sudanese embassy over rent arrears of $120,000.
"I did not get my money for 10 months now, so I call several times and I go personally to the ambassador, but they say wait. The issue is out of my control," he said.
The landlord, who is an Ethiopian national, said that he took the embassy to court for breach of contract on the payment of rentals over the last two weeks." I need money. When I am paid, I will immediately drop the court case," he said.
"I have been cooperating with the embassy, but I don't get positive feedback from the embassy," he added.
South Sudan's Ministry of Foreign Affairs said it has not yet received any official letter from its embassy in Addis Ababa about the matter.
The ministry's official spokesman Mawien Makol Ariik told Radio Tamazuj today that the government had asked the landlord to wait for sometimes due to worsening economic situation in South Sudan.
"We will talk to the embassy about the issue and see what to be done. We want to cooperate with the landlord," he said.