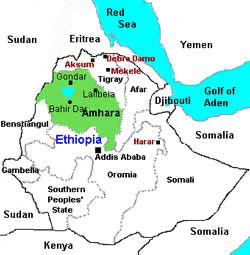 /Africa News/
February 1, 2018 – Ethiopia's Amhara regional state announced that a number of civilian have been arrested for their role in anti-Ethiopian government protests that killed over 20 people in the state. The party governing the region, the Amhara National Democratic Movement (ANDM), also disclosed that the measure was taken after a central committee meeting.
The region, Ethiopia's second largest state, is located in the north and was riled by anti-government sentiments in three town –Woldiya, Qobo,and most recently Mersa.
Even though the exact number of arrest is not known, Ethiopian political commentators are wondering why no Ethiopian security forces have been arrested over their use of undue force on unarmed civilians.
According to the United Nations, security forces deployed during the Ethiopian Epiphany celebrations in the region used gunfire to prevent young people from chanting anti-Ethiopian government slogans during celebrations.